Another Successful Hunting Season
In 2005 I was lucky again during hunting season. Not only did I draw my share of tags to fill the freezer, but I was lucky enough to hunt with my dad again. Before last year, it had been more than a few seasons we both had enough going on that it just didn't work out to hunt together. I have lived in Colorado and Wyoming for the past 15 years and him in Arizona. Arizona has some great hunting; trophy elk abound up north of Payson and Showlow, huge Kiabab Mule deer near the Grand Canyon and stalking around the deserts in search of the Javilina. But it does take a few preference points for the best areas and the time to devote to making the hunt worth wile. I grew up near Tucson and hunted every deer season with Dad after he gave me an old sportized Model 1917 for a Christmas gift when I was 14. Before I headed to college I had I shot that rifle a lot, just never at a Mule deer buck. Desert hunting for muley is tough work – of course back then I didn't know any better and it was just fun being out.
Big game hunting changed for me when I moved to Colorado. With an abundance of game, at least a person usually saw something every year, even if they didn't get a shot. But if Colorado was a big change, moving to Wyoming just plain spoils a person. I have always been a meat hunter, finding the horns too tough to make a good soup. With that in mind, Wyoming has plenty of opportunities to fill doe tags, even extra doe tags. That is really where this story is heading. Last year my 16 year old nephew, Joseph, wanted to hunt deer for the first time. Knowing how frustrating a hunt can be in his home state of Arizona, I offered to take him on a doe hunt near Cody. A couple of 'reduced price' doe tags even for out of state residents are pretty reasonable and we set Joseph and Dad up with applications. By the summer we knew we should be able to get them into the field and hopefully fill their freezers.
I started to look for a first deer rifle for Joseph among the ranks of the single shots now available. I would have loved to have set him up with a Little Sharps that would fit his smaller build, but we needed to stay with a kids sized budget. At the suggestion of a couple of shooters, I looked at the H&R Model 1871 break action rifle. That model comes in two versions, the Buffalo Classic chambered in .45-70 and the Target Model chambered in .38-55. After reading the specifications, I settled on the .38-55. Since my daughter also shoots that caliber and I have all of the reloading dies and load data as a place to start. When the rifle arrived I was pleasantly surprised with the fit and finish on this entry level priced gun. I was familiar with the oversized wood on the H&R rifles, so I expected that. What was nice to see was the quality of the wood, the colors on the action and the way it snapped shut and really held tight. It also came with a very functional Williams Receiver Peep Sight and globe front. But for a young mans first rifle, I thought I'd add a scope and save some time trying to teach him the ins-and-outs of the peep sight. I found a great used Higgins (Weaver) fixed 4X on E-bay and he was set up. The fixed 4X gave a good field of view and was quick to find a target in at 50 to 100 yards. The rifle information noted that it weighted 7½ pounds without the scope and that felt about right. The trigger had a clean break, though a bit heavy for me – but just right for a new shooter/hunter. On the internet and street the rifle goes for about $350; well worth the cost I think.
In the area we were going to hunt, there was the possibility of a shot between 100 yards right down to 15 yards or so. The cover at times is as thick as some of you have back east, out to open pastures that cover an acre or two. I have used Accurate Arms 2495 powder in my daughters hunting loads for several years now. I have found it to be a great cast bullet hunting powder, giving a bit of extra velocity with lower pressures. Her normal load is 32gr under a card wad and a 250 gr soft lead bullet. That load has taken everything from deer and antelope up to elk for her and the rifle. Knowing that we wouldn't need all of that steam and that we didn't want to introduce Joseph to a recoil flinch if we didn't have to, I reduced the charge to 25 gr and at 100 yards held about a 1½ to 2 inch group from the new rifle and scope. Definitely 'minute of deer' for the shot ranges we would have.
Joseph arrived a couple of days ahead of my Dad and I took him out to the range for a day of rifle 'familiarization' and to make sure he understood the principals taught in his freshly finished hunter safety course. The weather at the range was typical Cody fall; breezy and cool (especially for the young man who just got off the plane from Arizona), but we were able to get 30 or so shots off at various ranges to show him where the load was hitting from the zero at 100 to the close in distances. The next morning found us up early and on the road but as we neared the hunt are we found we had stumbled into the most classic problem; I asked if he had his safety card and ID with him and he said it was in his wallet with his license – long pause – but he just remembered he had left his wallet back at the house! So, remember hunting mentors; ask that question as you pack up! We returned and finally got to the hunt area about an hour after light; plenty early for this area. We started the morning out with a quick safety check and then out to the bush. We spent the first few hours going over how to read sign and how to try to move through the brush without causing a big ruckus. I thought we were doing a pretty good job until we spotted a really nice Muley buck that had us at better than 200 yards as we were sneaking along. We had seen several deer, whitetails and mule deer does all morning, but we were just never in a position for a good shot. It does teach an old hunter patience when you are out with a new hunter having them wait for the right opportunity
We had been out for about 4 hours, just about ready to break for a snack when we busted a group of does. They took off fast from about 25 yards and were in cover before Joseph had a chance to get ready for a shot. He wanted to follow quickly, but I suggested we just stand real still and see what happens. Sure enough, one of them came trotting back towards us in a couple of minutes. She stopped about 30 yards trying to make us out – I whispered to Joseph to 'take the shot' if he was comfortable; within a heartbeat his rifle barked. I was watching the deer and could see he had a good hit. The doe ran off into come short cover and we gave it a moment. Joseph wanted to head to where he thought she was heading but I suggested we head to the spot she had been hit at and go from there. We found a good blood trail and within 50 yards found her. A nice top of the heart shot and she was dead when we got there. A first deer for a new hunter and his Uncle was pretty proud of him. We dressed her out and started the drag back to the truck about a ¼ mile away. Joseph seemed to have a new bounce in his step and a smile that wouldn't go away. The .38-55 and the H&R preformed very admirably for us.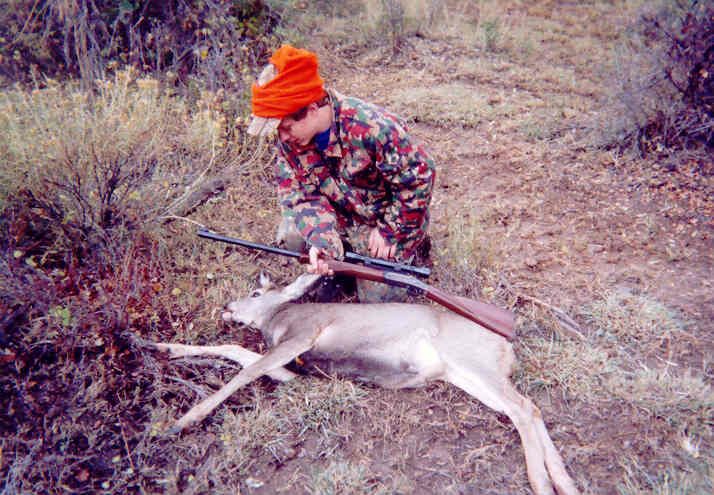 The next day my Dad arrived and we set out again to roughly the same area. Morning again found many deer, just none that offered the shot we wanted. Toward the evening we were sitting along a good path and Joseph caught sight of a deer looking at us from about 100 yards. We slowly got up and moved to a fence line, the doe gave us a neck shot at about 75 yard and I told Joseph that this was one of those hit or miss clean opportunities. I recommended that he put the crosshair just under her chin and take the shot, again, if he felt comfortable. I like this shot because it normally is either a good fast kill or a clean miss. I was watching in the binoculars at the deer and the rifle shot somewhat surprised me; I thought he would pass on this one. She bounded off fast and hard and we knew we had a miss. After a few moments we slowly made our way towards the cover she went into. No luck and we were sort of high-stepping along when I noticed the doe was stopped and looking at us from about 30 yards straight ahead. I was out front a bit and tried to lower down and step out of the way without making any fast moves. Remembering the advice from a few minutes before, Joseph took a high neck shot and she dropped in her tracks. The closer range had put the bullet right between her eyes and it was over in a split second; his second deer in as many days.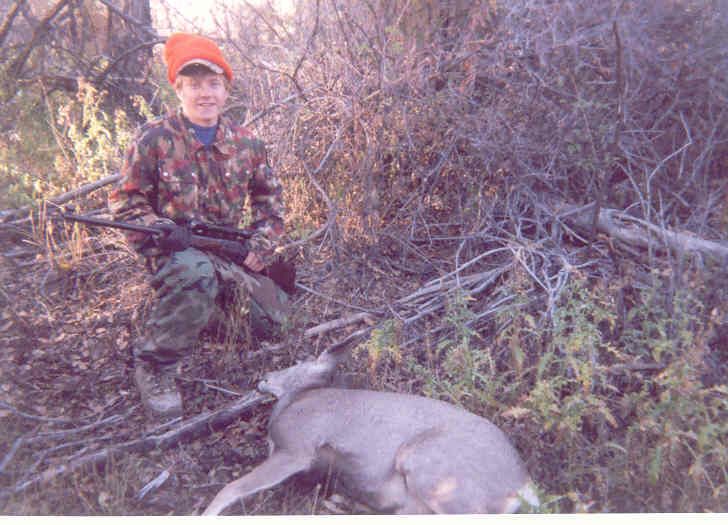 My Dad was more interested in filling Joseph's tag that night and we didn't get him on anything that night. Later in the week he filled his two tags with nice does as well.
As far as hunts go, it was another very memorable one; we filled all the tags, had a lot of fun and had three generations of our family in the field together. The rifle that was suggested to me by a friend worked out great. I would recommend anyone wishing to set up with a single shot rifle (for a first rifle or just one to keep you honest in the field). For deer and antelope sized game, the .38-55 is a great caliber. The recoil from even this steel butted straight grip was very manageable. The .38-55 can be loaded down as we did, or steamed up for elk and bear. I did get to handle the .45-70 Buffalo Classic at the local gun shop and it too seemed to be a great value for the cost. I can see this larger caliber rifle being a low cost- entry level rifle for BPCR at matches where allowed. As accurately as the .38-55 shot for us, I wouldn't hesitate to try it at one of our local Schuetzen matches some time. Of course I'd have to use another rifle than the one I just bought; I couldn't send Joseph home without the rifle he had taken his first deer with! Now he has a start to his collection of single shots. I'm sure he will remember the outing with as warm a feeling as Dad and I do. It really is special to take a young man or woman into the field and especially for their first hunt.
Rick Patton
Cody